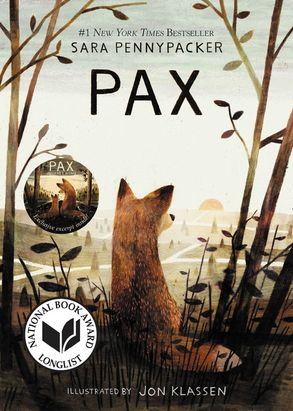 In this midst of his own loss, 12-year-old Peter finds a fox kit. Alone, orphaned, freezing. Peter rescues Pax and brings him home. The two become inseparable, bound, "two but not two". As war approaches their home, Peter and Pax are forced to go their separate ways.
Told through separate points of view – Pax and Peter embark on a dangerous and unforgettable journey of self-discovery and back to each other.  Guided by equally bruised and haunted characters along the way, each half of this duo learn lessons in survival, introspection and fighting for what you believe in.
This is far more than another story about a boy and his dog….
I was able to read a digital advanced copy of this book that did not include the artwork from Jon Klassen (most recently – illustrations for Kenneth Oppel's The Nest) but I am eagerly awaiting the arrival of the final copy to see what this fantastic illustrator brings to this intense story.
Written by: Sara Pennypacker
Illustrated by: Jon Klassen
Published by: Balzer + Bray
On Sale: February 2, 2016 (Hardcover)
Grade Level: 4-8
UPDATE: Check out the official book trailer!
Reviewed by Paul Orsino